Wow, I am SO Glad it's Friday again! This week has been pretty crazy, busy, and full of me not having a voice. Today I'm thrilled to be linking up with a few of my very favorite blogs to read to do another "Friday Favorites". Check out
Andrea's
blog
Momfessionals
,
Erika's
blog called
A Little Bit of Everything
, and
Narci's
blog called
Grace and Love
.
1) My number one favorite thing about this week was reconnecting with a couple of my Besties!
On Wednesday night
Maddie
and
Stacie
came over to my house to catch up. It was so nice getting to chat about random things and laugh! No matter how long we go between seeing each other we always have a great time! Can't wait for our annual scarf exchange in January!!
2) The fact that Christmas is less than a week away!! If you need any ideas on Christmas treats check out my previous post
here.

3) My Momma goes on my list of favorites this week. Yesterday when I was home sick she rescued me by picking up cat food for my cats, and bringing me all the essentials to feel better. Even as a grown woman I still always want my momma when I'm sick. Love you mom ;)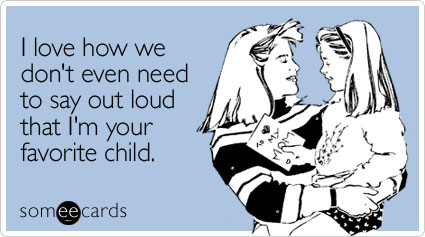 4) Nyquil. Yep this is happening, Nyquil is on my list of favorite things. It is the only reason I have been sleeping the past few nights. I like to call it a "nyquil induced coma". Regardless what you call it, It is wonderful.
No I'm not a druggy, and yes I do love Ecards.


Sorry all, but this is all I have for you today, blame it on the Nyquil or the fact that I still can barely speak ;). Hope you all have a FABULOUS weekend!
Be Blessed!!